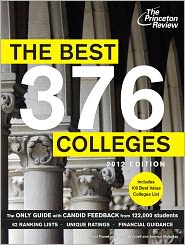 Students are heading back to their college campuses for the start of another new academic year and once again it's time for Princeton Review to announce results from their annual survey of college students. The 2012 edition of "The Best 376 Colleges," represents the results of mostly online surveys conducted with more than 122,000 students at the 376 institutions included in the guide. An average of 325 students per school are interviewed. As I mentioned last year, the survey asks students to answer the question, "How popular is the radio station?", so these results technically don't equate to perceived quality of a station, yet they get categorized in the book as "best college radio station."
Additionally, since interview subjects are only asked "How popular is the radio station?", the results really can't be looked at as an endorsement of a specific radio station on campuses that contain multiple stations. For example, University of Kansas made the list and it has both a student-run radio station and a public radio station. Similarly, Brown University has both a commercial and a non-commercial station, while Emerson College has an online-only student-run station as well as a professionally-run public FM station.
This year's "Best College Radio Station" category (registration required), is actually kind of an interesting mixture of universities, with 11 of the same schools as last year and 9 new schools appearing on the list. The complete list for 2012 is listed below (you can compare to the lists of "winning stations" from the 2011, 2010, 2009 and 2008 editions of Princeton Review on Spinning Indie). The "most popular" college stations for 2012 are:
2012 Princeton Review's Most Popular College Radio Stations
(note: I've added station names as the Princeton Review only lists school names. Schools in bold were not on the list last year)
1. St. Bonaventure University (WSBU-88.3 FM, St. Bonaventure, NY)
2. DePauw University (WGRE 91.5 FM, Greencastle, Indiana)
3. Ithaca College (WICB 91.7 FM and VIC Radio, Ithaca, New York)
4. Emerson College (WERS 88.9FM and WECB, Boston, MA)
5. Hofstra University (WRHU 88.7 FM, Hempstead, New York)
6. Knox College (WVKC 90.7 FM, Galesburg, Illinois)
7. Brown University (BSR and WBRU, 95.5 FM, Providence, RI)
8. University of Puget Sound (KUPS 90.1 FM,Tacoma, Washington)
9. The College of Wooster (WCWS 90.9 FM, Wooster, Ohio)
10. Fordham University (WFUV 90.7 FM, Bronx, NY)
11. Providence College (WDOM 91.3 FM, Providence, RI)
12. Stanford University (KZSU 90.1 FM, Stanford, CA)
13. Sacred Heart University (WHRT and public radio station WSHU-FM, Fairfield, Connecticut)
14. Carleton College (KRLX 88.1 FM, Northfield, Minnesota)
15. University of Kansas (KJHK 90.7 FM and public radio station KANU 91.5 FM, Lawrence, Kansas)
16. Wellesley College (WZLY 91.5 FM, Wellesley, Massachusetts)
17. Flagler College (WFCF 88.5 FM, St. Augustine, Florida)
18. Denison University (WDUB 91.1 FM, Granville, Ohio)
19. Chapman University (ChapmanRadio.com, Orange, California)
20. Westminster College (WWNW 88.9 FM, New Wilmington, PA)
---
Just one dollar a month makes you a patron of Radio Survivor. Help us through our Patreon Campaign!
---